FACULTY

Hagai KamilDirectorViolin, Viola

​A devoted music educator, Hagai Kamil has served as a violin faculty at Lucy Moses School at the Kaufman center and at School for Strings where he received his Suzuki violin teacher's training with Louise Behrend and Hisako Resnick. His training as a Suzuki teacher also includes Suzuki Viola training with Elizabeth Stuen Walker.

He has led several Suzuki music programs as a director for 10 years before he founded The Brooklyn Music Studio. They are, the Suzuki program at Brooklyn College Preparatory Center for the Performing Arts and the Suzuki Division at The Brooklyn Queens Conservatory of Music. During his tenure he created Summer Music Camps at both organizations as well as organized Suzuki string teacher training workshops. He also served as the director of The School for Strings Suzuki Institute for three summers in 2006-2008.

Hagai Kamil holds his undergraduate music degree in violin at Brooklyn College( CUNY) where he studied with Masao Kawasaki. In addition, he studied Viola performance with Mark Lakirovich as a graduate student at Longy School of Music, Cambridge, MA.
Jinah ParkPiano

Born in South Korea, Jinah Park has studied piano since the age of five. She has made New York her home since 2000 and has been performing in solo and chamber music concerts as a pianist. Her career includes a tenure as a music director at Good Shepherd Lutheran Church for over 15 years conducting a choir and performing on the piano and pipe organ for services and concerts.

​

Her career as a music educator in the States started as a music teacher at P.S. 152 in Brooklyn, NY. She has been on the piano faculty at The Brooklyn Conservatory of Music in Suzuki Division before she co-founded The Brooklyn Music Studio with her husband, Hagai Kamil.

In Spring 2018, her interest in Early Childhood Music Education led her to take a teacher training to become a Music Together teacher, a renowned, research based music program that are for age 0-5. In 2020, she combined her passion in early childhood music education and fluency in Korean as a native speaker and launched a Korean Language class, 노래 세상 (pronounced No-re-se-sang in English). The class helps Korean speaking families of new babies and toddlers acquire the language through singing well known Korean children's songs as well as her original songs.

A graduate of Suzuki piano teacher's training with Shiela Keats at The School for Strings, as well as, Early Childhood Education(ECE) with Dorothy Jones and additional teacher training with Mary Craig Powell, Jinah Park is registered with the Suzuki Association of the Americas as a teacher for book 1-7 and ECE Stage 1.

Jinah Park holds a Master of Music degree in piano performance from Brooklyn College(CUNY). She counts the training with late Shirley Cohen the most significant influence for her musical career as a pianist and an educator. ​​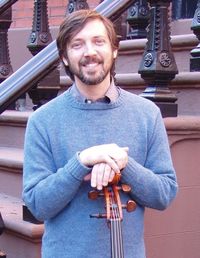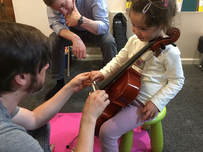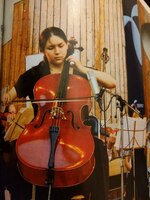 Erich Schoen-Rene
​Cello
Erich Schoen-Rene performs extensively in New York City and beyond. He is a principal cellist at Chelsea Symphony. He also is a member of DCINY orchestra and Philharmonic Orchestra of the Americas. He studied with David Geber, Luis Garcia-Renart and Maxine Neumann. He holds a B.M. from Bard College and a Master of Music degree in Cello

performance from Manhattan School of Music. A graduate of Suzuki cello teacher's training program with Pamela Devenport at The School for Strings in New York City, he is registered with the Suzuki Association of the Americas as a Suzuki teacher. Erich is dedicated to educating the next generation and is on the faculty at The Brooklyn Music Studio, Hoff Barthelson School of Music.

​
Rebecca Shavzin
Cello
A newest faculty member to The Brooklyn Music Studio for 2022-2023 academic year, Rebecca Shavzin is a New York City based educator and performer. She received her Bachelors and Masters in Music at The Conservatory of Music at Brooklyn College, studying with Vladimir Panteleyev. Rebecca has also completed her Suzuki Teacher Certification at The School for Strings with Pamela Devenport. She is currently a faculty member at the Preparatory Center at Brooklyn College. She has performed in the U.S., Italy, Germany, Ukraine and China. In continuing her commitment to education, Rebecca has recently completed a Masters in Early Childhood Education and is also a Pre-Kindergarten Associate Teacher at Trevor Day School on the Upper West Side.

​